Requiem for a Clown (Synopsis)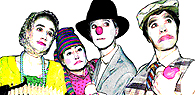 Four clowns: from left, Dolly, Schoo, Pessoa, and Bör, gather to honor their lost friend Giovanni Trespidi. They put on a requiem, for which the guests are the members of the audience, and remember the last year of Giovanni's life.

Giovanni was a young man tormented by a Daemon. In the spring of his last year of life, to escape from this Daemon, he moves to the city. There he rents a room in a boarding house, gets a job as an office clerk, and meets the clowns who are now remembering his life. At the end of one day, after have worked very hard in the office, Giovanni discovers a clown nose stuck in his heart.

It is summertime. Now a clown, Giovanni performs in a park where he meets Heidi, and falls in love with her. To win her love, he places his heart and nose in a box, and gives it to her. She takes the box, and soon after Giovanni finds out that she is but a pawn in the Daemon's game. She leaves him distraught and defeated.

Autumn settles in and Giovanni, now a fallen clown who is unable to love, travels around the world breaking hearts. Despondent, he returns to the city and embraces loneliness as his fate.

On a late winter evening, while playing accordion and drinking, Giovanni encounters two of his old clown friends. They try to cheer him up, and invite him to celebrate the holidays with them. Giovanni declines their invitation, and the clowns leave. The Daemon presents himself to Giovanni, and delivers his final blow. The clowns return but Giovanni is gone.

It is springtime again, and dusk has settled. The four clowns are united to mourn. It is silent.

Scenes
* Introit - Bör, Dolly, Pessoa, and Schoo thank you for being present to remember Giovanni.
* Spring - Dolly remembers love in blossom.
* Ciao Mama - Tormented by a Daemon, Giovanni leaves home.
* The Airplane - Giovanni departs for the city.
* Eine Pension - Giovanni checks in at a boarding house where Pessoa works as a clerk.
* La Oficina de la Fábrica - Giovanni gets a job where he meets Bör, Dolly and Schoo.
* The Heart is True - Giovanni finds a clown nose in his heart.
* Summer - Bör remembers love in heat.
* Ridi Pagliaccio - The Daemon entrances Heidi, an attractive young woman, and uses her to seduce Giovanni.
* Dies Irae - Giovanni proposes to Heidi, who betrays him.
* Autumn - Schoo remembers lost love.
* Amors Vei Finir a Tot Dia - Giovanni leaves the city, and travels around the world breaking hearts.
* Amartia - Giovanni, now a fallen clown, returns to the city, and realizes that he is unable to love.
* Winter - Pessoa remembers loneliness.
* A Meeting of the Spirits - Bör and Pessoa encounter Giovanni, who tells them of his misfortunes.
* Agnus Dei - Defeated by the Daemon, Giovanni dies.
* April is the Cruellest Month (Coda) - Bör, Dolly, Pessoa, and Schoo honor Giovanni.